Originally published on September 25, 2017, on my site Ol' Abner.
You remember Aaron Meyer. As a senior second baseman for Missouri State, he tore his patellar tendon running to first base last April. We'd never spoken, but I watched from behind home plate. Late that night I wrote one of my favorite essays ever, and with his encouragement, I shared it widely.
"I walk everywhere now"
I visited him at Hammons Field a few weeks ago. He needs a semester-long internship to complete his sports administration degree, but he's spending this year working as a student assistant. He helps out at men's soccer and football games, and he works with the baseball Bears.
We sat down in a conference room. A couple of pitchers lifted weights down the hall, strengthened by heavy metal blaring over the speakers.
Meyer does physical therapy three times a week and hopes to regain full mobility within three months.
I asked him about that injury.
"I can't compare it to anything. It was the absolute worst pain of my entire life for about a minute. And then I kinda went into shock, and I didn't feel anything except when they tried to bend it," he said and laughed.
Then came surgeries. April 27. May 15. June 11. July 13. Complications, and visits with infectious disease doctors. Antibiotics every eight hours for two months. He described a hematoma removal as "one of the gnarliest things you'll ever see," but he smiles. He has a video, but I feel faint at the very idea.
So, how is he, anyway?
Thrilled.
"People take the tiniest things for granted, and I don't think I ever will again in my life. It's being able to do something as easy as bending your leg – and I tell myself every day there could be 100 things worse. So, I'm very blessed to be where I'm at now."
Home for summer
He planned to spend the summer coaching with Bears graduate assistant coach Geoff Jimenez in the Show-Me Collegiate League in Ozark, Missouri, but had to return to Belleville, Illinois, to recover instead.
"I don't think I could ever thank my parents enough for the support and everything they did for me. They had to put up with me. I don't think it was a scheduled summer at home, but the more I see them, the better."
He also had strangers reaching out to him on Twitter and Instagram, and old friends bringing meals.
All that time gave him room to think about theology, and sit and wonder about what used to be, and what happens next.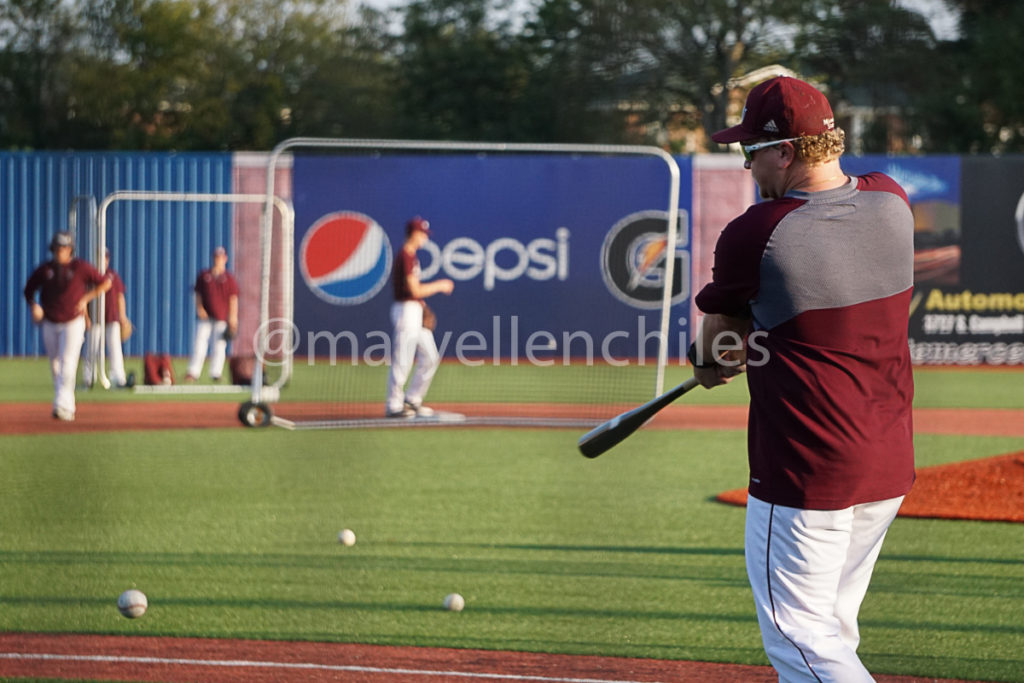 "My original dream was always to play Division I college baseball. And after I checked it off the list, my next goal was to play professional ball."
Meyer was talking to "more than half of the MLB teams," but got injured about six weeks before the draft. His best buddy, Jake Burger, was drafted in the first round. They text nearly every day.
But Meyer also loves coaching. He works with Missouri State hitters and infielders, and he helps local high school players prepare for college ball.
"Some people feel like they have to go to their job every day. Now I get to come here every day, and that's how all the players are. I mean, you get to do this. You're getting some - if not all - of your college paid for and you get to play college baseball."
He's still working to get into playing shape. He'd love to play independent ball, but he doesn't worry about the past.
"In the last four years of playing ball here, I didn't take anything for granted. I laid my heart out there every single game and … I wouldn't have gone back and done anything different. Injuries happen, and it just happened to be a long-term one," he said.
I say he must be tougher now, then stumble to recant it.
"You can say that," he said and smiled.
He's looking at master's programs for fall 2018, but his next goal is no less inspiring:
"When I can run, I'll run everywhere."